Mobile Orthodontic Clinic in Dayton, Carson City & Carson Valley, NV
Have a Seat on Our OrthoBus for Easy Adjustments & Brilliant Smiles
At D'Ascoli Orthodontics, we make it easy for school-aged children and school staff to have healthier smiles through our mobile orthodontic clinic in Dayton, Carson City, and Carson Valley. Fully-equipped with four dental chairs, our unique, rolling RV, also known as the OrhtoBus, visits most schools in Carson City, Minden-Gardenville, and Dayton, as well as students at Dayton High School. We also offer convenient pick-up and drop-off escort service for our Carson Valley Middle School students. All our short orthodontic adjustments can be done in our mobile clinic throughout the school year.
Best of all, parents love our OrthoBus because it means they don't have to take time off from work and their children miss very little class time. Not to mention saving time from not having to do the work-school-orthodontic office-school-work routine. This time- and money-saving service can lead to better grades, happier parents and bosses, and of course, healthier smiles. What's not to love about our OrthoBus?
Learn More About Our Mobile Orthodontic Clinic in Dayton, Carson City & Carson Valley – Contact Us Today!
When you are ready to learn more about how orthodontic treatment can help your child achieve their healthiest smile, call 775-853-1919 to schedule a complimentary, no-obligation D'Ascoli Orthodontics Smile Assessment today. Your child's appointment includes a discussion of your goals, an in-depth oral exam, 3D scan, digital x-rays, a personalized treatment plan, and free bonus teeth whitening if you commit to Invisalign treatment the same day as the initial consultation – a $295 value, for FREE!
You may also click here to use our online scheduling form. We look forward to helping you achieve your happiest, healthiest smile!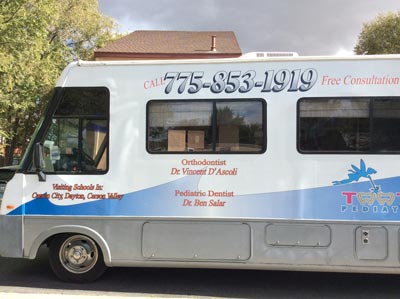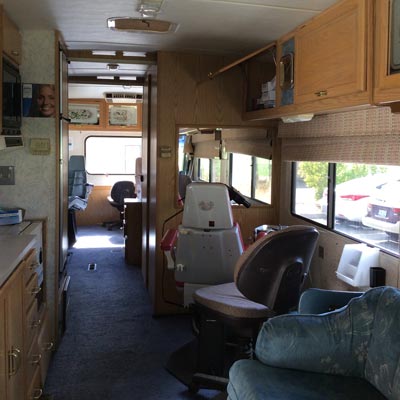 As one of the premier orthodontic practices in Reno, NV our doctor and team at D'Ascoli Orthodontics also provide 5-star orthodontic care to patients from Carson City, Gardnerville, Incline Village & Fernley, NV, South Lake Tahoe, CA and Surrounding Areas.